Welcome to Twin Sneaks! I started this column about a year ago, but stopped watching the show as I wanted to wait until the new Season 3 was closer. What I'm hoping to do here is recap all the episodes for you guys leading up to the new premiere on May 21st (EEEEEK!!) After that, I'll continue to recap the new episodes for you, and have them ready to go every Monday or Tuesday! There will, of course, be SPOILERS in these recaps, so please stop reading (or don't, I'm not you mom) and WATCH THE DAMN SHOW ON NETFLIX, YOU JERK!
Twin Peaks – Season One: Episodes 5-6
Recap by Nick Spanjer
Episode 5: The One-Armed Man
Directed by Tim Hunter
Written by Robert Engels
This episode begins at the Palmer house, where mother Sarah is giving a description of Bob (the man she had a vision of at the end of Laura's bed) to Deputy Andy. Donna and Maddy are joining them when Leland comes downstairs and gives his wife shit for having multiple visions. Sarah tells Sheriff Truman about her vision of the necklace being unearthed from the rock. Donna wonders how she knew that. Over at the Sheriff station, Lucy is watching Invitation to Love when the Sheriff and Andy appear. Truman asks where Cooper is and leaves for the conference room, when Andy asks Lucy why he couldn't spend the night, and welcome to another awful storyline.
Over in the conference room, Cooper is interviewing Dr. Jacoby who is doing tricks with golf balls, and asks if Laura was seeing him because of her cocaine use. Jacoby declines to answer out of doctor/patient confidentiality. He tells Cooper she was having isues when Cooper asks if they were of a sexual nature. One of the best Jacobyisms comes next: "Agent Cooper, the problems of our entire society are of a sexual nature." Cooper asks if Jacoby was one of the three men that had sex with her the night of her death, and Jacoby declines and tells them that he followed a man in a red corvette into the woods the night after she died. Leo Johnson just happens to drive a little red corvette.
Gordon Cole, Cooper's superior at the FBI, and all-around badass (played by a hard-of-hearing David Lynch) calls in and notifies Cooper what they found from Laura's autopsy, including the twine used and the bird bites on her shoulder. He also mentions that Rosenfield has put in to get Truman's badge taken away for the sucker punch, but Cooper defends the Sheriff. "Harry, the last thing I want you to worry about while I'm here is some city slicker I brought into your town relieving himself upstream." Deputy Andy walks in with a composite sketch of the man Sarah Palmer saw at the end of her bed, and it's far too accurate for Andy's dumb ass. Cooper mentions that it's the same man he saw in his dream and Andy and Truman are stunned. Deputy Hawk calls in and says that he's tracked the one armed man to the Timber Falls Motel on the other side of town.
At the motel, Josie Grossie is being a creep and taking pictures from her car of the revulsion of the century, as Catherine and Ben are fucking again. They're talking about the two ledgers, and gah, I don't care enough. They see the officers show up as Andy drops his gun and it goes off on the way in. As Ben watches the officers kick the door in, he goes to take a shower (but first he pulls out an Elvis figurine and says he's going to give Little Elvis a bath), and drops a poker chip to One Eyed Jacks from his pocket. Catherine picks it up.
Over in the One Armed Man's room, Cooper and Truman ask who he is. His name is Philip Gerard (a light homage to The Fugitive) and he's a simple shoe salesman. They show him the picture of "Bob" and he doesn't recognize him. He mentions he does have a friend named Bob the Veterinarian, but he's currently in a coma. Cooper asks him about his missing arm and if it had a tattoo, and Gerard breaks down and admits it did and said 'Bob.' As they leave, Hawk is using his tracking skills and tells Truman that Josie Grossie was already staking out the motel.
Back at the high school, Donna and Audrey share a cigarette in an all too pink bathroom. They discuss Laura's troubles while she was still alive, and Audrey reveals that Laura was seeing Dr. Jacoby secretly as a patient. She has a feeling that she was also working at One Eyed Jack's, and that she for sure worked with Ronette Pulaski at Horne's Department Store perfume counter. Norma visits the prison to meet with her incarcerated shitbag of a husband, Hank. He asks her to back him up in the parole hearing and she actually considers it for some fucking reason. We find out he went to prison for running over and killing a vagrant on the side of the road. The parole board considers his case.
Cooper and Truman head into the Bob the Veterinarian's office, where a llama is standing inside the waiting room. Cooper shows the composite to the ancient receptionist who confirms the two Bobs are not the same. They walk away from the desk for a moment to discuss Cooper's motivations at the clinic, when the llama looks directly into Cooper's face and snorts. Somehow, Maclachlan does not break character, and it's one of those show-defining moments that Twin Peaks is loved for. Andy walks in with the twine that Gordon Cole described was used to bind Laura, and Cooper asks the near-ghost at the reception desk for every record in the office.
Over at the Johnson catbox, Bobby and Shelly are making out in the gross kitchen. Bobby mentions that Laura was seeing Hug Me James behind his back and wait, what? Wasn't Bobby fucking Shelly this whole time? Bobby mentions that Leo and Jacques are running coke across the border and that Leo was giving drugs to Laura. Shelly shows Bobby the bloody shirt from Leo's laundry and he takes it. He tries to leave but she shows him she has a gun and they decide to bone one more time. The troops arrive at the Sheriff station and Truman tells Lucy that he needs all the files that mention birds. Deputy Andy apologizes for dropping the gun and then tells Lucy what happened. She's short with Andy and he can't figure out why.
Over in the shooting range, the boys shoot at targets after Cooper mentions he can tell something is wrong with Andy and Lucy. Andy, of course, can't shoot worth a shit and Cooper insists he practices using his gun. Cooper then mentions he's never been married in his own Cooper way. "No. I knew someone once who helped me understand commitment, the responsibilities and the risks; who taught me the pain of a broken heart." He then takes six more shots at a target with his custom made hand cannon. Lucy calls over the intercom and mentions that the files are organized by the names of the pets, not species.
At the RR, Shelly tells Norma that Leo beats her and Norma hardly gives any fucks. "Look at us: two men a piece, and we don't know what to do with any of the four of them." Cool life. Hug Me James walks in to use the payphone as Norma mentions to Shelly that they'll take a salon trip tomorrow to take all that spousal abuse off the mind. Hug Me James calls Donna, who invites him over, but he's on his period and it turns out he really called Donna for no reason, when he sees Laura's cousin Maddy for the first time. He puts his fivehead uncomfortably close to this girl that he's never met, and for some reason she smiles and says hi. They introduce each other and she mentions she's from Missoula, Montana. They talk about Laura's parents for a moment and James mentions she looks just like Laura. The phone rings and Norma gets the news that her husband Hank has been paroled. She looks upset BUT YOU GOT HIM OUT BY SAYING HE COULD WORK THERE AND LIVE WITH YOU – GAHHHH!
Over at The Great Northern, Ben is on the phone with new Icelandic investors when Audrey walks in. Audrey asks him if she can help with the family business and turns on the drama about Laura. He takes the bait and decides to let her work at the department store. The whole scene would be pretty touching if she wasn't actually faking all of this just to impress and try to bang Cooper. As Audrey leaves, the phone rings and Ben asks "where have you been" to the person on the other end. Over at the Sheriff department, the boys are working into the night on the vet's files. Cole calls in again and mentions that Rosenfield is faxing a reconstruction of the plastic object that was found in Laura's stomach. He also says the bites on her shoulder were made by a parrot or mynah bird.
Turns out the plastic piece was a poker chip to One Eyed Jacks. Andy finds a file for a mynah bird named Waldo, who happens to be owned by humanesque slug, Jacques Renault. Cooper gets excited: "Gentlemen! When two separate events occur simultaneously pertaining to the same object of inquiry, we must always pay strict attention." The boys then run over to Jacques' apartment. Upon the knocking of the door, Bobby looks up. He's planting Leo's bloody shirt to try and set up Renault and jumps out the back window. Cooper finds Leo's bloody shirt (his initials are sewed in) hanging precariously from a drawer.
In the woods, Ben meets with the person who called him and surprise, surprise, it's none other than Leo 'Soap Sock' Johnson. Leo mentions he killed Bernard Renault and motions over to his body by his bright red corvette. Leo mentions that Jacques is back in Canada, so Ben tells Leo to proceed and burn down the mill so Josie Grossie will sell the land, and Catherine and Ben will make out like bandits with the new Ghostwood development. Donna and Hug Me James return to where they buried the other half of the necklace and *gasp*, it's gone! Sarah Palmer was right! Spooky! As they discuss how spooky Mrs. Palmer is, an owl hoots at them from above, and suddenly, not all is as it seems (rimshot, please). They talk for a second about Laura, the Badalamenti intensifies, and they make out again. We finally come to the end. Josie makes Pete a sandwich at the Martell's place and Pete asks her if she'll fish in a tournament with him. He goes to bed when Hank calls Josie Grossie from his last night at the prison, letting her know that he's getting out as he disgustingly slips a domino in and out of his mouth.
Episode 6: Cooper's Dreams
Directed by Lesli Linka Glatter
Written by Mark Frost
Cooper is having trouble sleeping at The Great Northern, listening to a group of rowdy Icelanders dancing and singing next door at 4:30 in the morning. This is one of my favorite episodes for Cooper's character, as he's very irritable the entire time. Audrey tries to join him for breakfast again and he's having none of that statutory shit this time around, missy. Just kidding, he asks her how old she is while staring at her creepily, saying, "We'll see you later, Audrey." SHE'S IN HIGH SCHOOL, HOMIE!
Jerry Horne walks into Ben's office, just getting off the flight earlier that morning with the Icelanders. He explains to Ben how excited they are to invest and that he's also in love with one of the Icelandic women named Heppa (sp?). Ben tells Jerry that they should treat the Icelanders to One Eyed Jack's when an unkempt Leland Palmer walks in, insisting he's ready to come back to work. He legitimately looks like he just rolled out of a dumpster, sweating like a methhead in a Wal-Mart bathroom. He collapses on the floor and starts crying.
At Jacques Renault's apartment, the boys are searching the place when an exhausted Cooper arrives and asks if there are more donuts after checking an empty box. He asks for another cup of coffee and mentions he didn't sleep much due to the Icelanders. "There's a large group of insane men staying on my floor." Cooper looks to the ceiling while Doc Heyward informs him that the blood on Leo's shirt was AB-; not Laura's blood. Cooper guesses this is Jacques' blood when the phone rings again. Andy walks over and gives Cooper a donut and cup of coffee, and like a cell phone coming back to life, Cooper seems suddenly revitalized after one sip. Truman boosts Cooper to the ceiling as Doc Heyward finds out that Renault's blood was AB-. Cooper seems unimpressed with this revelation, as he pulls down a copy of Flesh World from the ceiling. They open it and find an envelope inside with a Polaroid of a man dressed in drag. "I don't know, the beard sort of ruins the effect of the lingerie, what do you think Harry?" Again, welcome to 1990. They also see a picture of Leo's truck inside the magazine.
Over at Leo's Fart Dungeon, a freshly showered Shelly (nevermind, they don't have a god damn shower – they have a kitchen sink) makes breakfast for herself and Bobby. We find out through conversation that Shelly dropped out of the 11th grade and married Leo, so apparently, age ain't nuthin' but a number here in Twin Peaks. They basically dry hump at the formica table for a while, while role-playing what they would do if Leo was to walk in at that moment. They hear a car door shut and Bobby runs for the back of the shanty when he sees it's a deputy. Andy walks in and asks when Leo will be back. Shelly tells Andy that Leo was arguing with Jacques a few nights back about Laura. When Andy leaves, Bobby comes out of whatever shitty half-finished room he was in and they proceed to make out when the phone rings. It's Leo, saying he'll be home soon. Bobby slides the gun into Shelly's hand.
At Big Ed's Gas Farm, Norma shows up to talk to Ed about Hank getting his parole. Ed and Norma proceed to make their lives shittier by asking each other why they're still with the people they don't love and not actually doing anything about it. I suppose it's heartbreaking, but at this point, they've had so many annoying chances to be with each other. If I was friends with these two, I would be so god damn frustrated with them. At Horne's Department Store, Audrey is discussing her new job with the store's world class creep manager, Emory Battis. She power grabs the perfume counter job out of him, knowing nepotism will get her anywhere.
Suddenly, we're in a park by a lake, and Donna is hurriedly approaching Hug Me James about some note he left – because he leaves notes like a 12-year old teenage girl. She hugs Hug Me James and he proceeds to tell her about some really time-sensitive daddy issues. "He was a musician. We were living on the West Coast. He was a bum and ran off on me and my mom. My mom's a writer. She was really good; poems and short stories. She's an alcoholic." Turns out his mom is actually kind of a hooker. K. Thanks, James. Glad you left me a note and made me go all the way to this fucking park to tell me this really fucking pressing matter. They hug and kiss and the music gets crazy and jesus, this story line man.
Back at Jacques' apartment, the Forensic team is investigating and they're all eating donuts. Sleepy Cooper takes a bite and opens a cabinet, noticing a picture of a cabin taped on the inside with red drapes. They find both Ronette and Laura's ads in Flesh World and notice the return address on the envelope is to Jacques' cabin in the woods: the one taped to the inside of the cabinet. At the RR, a newly paroled Hank plugs the jukebox when Maddy comes in to meet James and Donna. Welcome to yet another, really awful storyline. I have no illusions about a lot of Twin Peaks just being really awful. In the long run, to me though, the good outweighs the bad. So, if you're reading this, you probably just deal with it like I do. I suggest making fun of it as much as possible. It really seems to help.
Anyway, back to this nearly pointless scene in which the Junior Detective Agency is formed. They mention that Laura was in trouble before she died (fucking, duh) and that they want Maddy to help. Maddy agrees to help the youthy sleuths and mentions that the day before Laura died, she felt like she was in trouble. They get up to leave like, four seconds after they sat down and she leaves the Cherry Coke that she asked James to get her without even opening the straw. This is 'Kevin McCallister Not Touching His Macaroni and Cheese Dinner' level shit, Maddy.
Anyway, turns out Hank was listening to this whole conversation and the music intensifies as we zoom in on his craggly face. Norma and Shelly, fresh from their 1950's salon trip, walk in and Hank says hi for the first time on the outside. Norma asks Hank to start washing dishes, as Shelly watches a meathead beat up a nerd on Invitation to Love. At Dr. Jacoby's office, the Briggs are meeting as a family with Bobby to talk about Bobby's sudden spiral downward. Jacoby asks to meet with Bobby alone to talk about Laura. He asks what it was like the first time they fucked and asks if Bobby cried while Laura laughed. This upsets Bobby, and he admits that Laura wanted to die. Bobby begins to cry as he's pressed further about how awful Laura actually was as a person, and for the first time, you realize Bobby began his downward spiral into drugs and debauchery because of Laura, not in spite of her.
Out in the woods, Cooper, Truman, Hawk, and Doc Heyward (who seems like he's legitimately dying from the hike) are walking to the cabin. Hawk sees a bent, tiny pine tree sticking out of the ground, and for some reason is alarmed. It looks insanely arbitrary among a sea of pine, but OK, I believe you, Hawk. They happen upon a cabin that looks different than the one in the cabinet and the Log Lady walks out. "About time you got here. They move so slowly when they're not afraid. Come on, then. My log does not judge." These are honestly the first four things she says without any of the guys saying anything. Welcome to prime Twin Peaks.
She invites them in for tea and cookies and mentions that the owls will not see them in the cabin. Also: "Shut your eyes and you'll burst into flames." She tells them that they're actually two days late, then looks at Cooper and says that's his doing. She mentions that her log saw something then pours the tea. We find out that her husband was killed in a fire the day after they were married.* She tells Cooper to ask her log a question and he asks what it saw the night Laura was killed. The Log Lady caresses the log and it seemingly speaks through her. "Dark. Laughing. The owls were flying. Many things were blocked. Laughing. Two men. Two girls. Flashlights pass by in the woods over the ridge. The owls were near. The dark was pressing in on her. Quiet then. Later, footsteps. One man passed by. Screams far away. Terrible, terrible. One voice. Girl. Further up over the ridge, the owls were silent."
*If you read Mark Frost's (who wrote this episode), The Secret History of Twin Peaks, which came out this last year, there is an extensive section about Margaret (The Log Lady's) life, which is informative beyond everything I could ever imagine, and kind of made this episode way more meaningful to me. Once you've watched the series and the film Fire Walk With Me, definitely read that book. It is essential for Twin Peaks fans.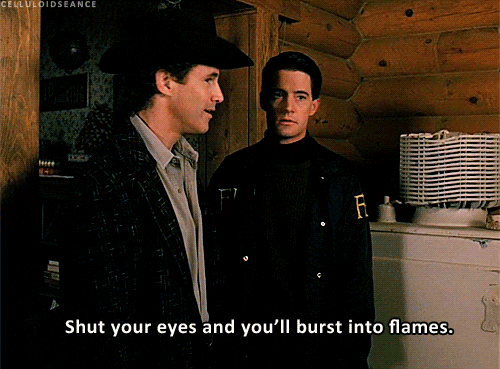 The boys leave the cabin, returning to search for Renault's place. Hawk hears music coming from somewhere nearby and they arrive at Jacques' place. Julee Cruise's haunting Into the Night is playing on repeat on a turntable. Cooper remembers something that the dwarf told him in his dream: "Where we're from, the birds sing a pretty song, and there is always music in the air." Just so happens, Jacques' cabin has a record on repeat and Waldo, the mynah bird is singing in a cage. Hawk finds some film in a camera and Cooper picks up twine on the floor. They find a blood stain and when Truman opens the cuckoo clock, a poker chip falls out. This one has a piece missing, though. *dun-dun-dunnnn*
At The Great Northern, Josie Grossie is smoking in the dark in Ben's office, because she's a turd. A party is being held for the Icelanders, when Pete and Catherine show up to join in on the festivities. Off-His-Meds Leland suddenly appears, looking a little less homeless, and about just as sweaty (get the Blu-Ray set for that ultimate repulsive look). Catherine walks over to interrupt Ben and purposefully pours champagne on his shoe in front of the Icelanders. Ben tells her to meet him in his office. Audrey watches interested from nearby and sneaks into a secret passageway to watch their conversation from a peephole. Catherine slaps Ben because she found the One Eyed Jack's chip he dropped in the motel room, then they disgustingly press their wrinkly lips on each other and Audrey just watches and laughs.
Back at the party, Jerry Horne starts pitching the Ghostwood project when suddenly, the music kicks in. Leland goes haywire and begins to uncontrollably dance. Ben begs Catherine to dance with him and everything seems fine for the moment as others join in. Everyone is laughing and having a good time, except for Leland, who seems truly fucked up in the harshest sense of the phrase. Audrey watches nearby, and seems to be the only other one in the room feeling bad for him, crying at the sight. Meanwhile, Josie Grossie is still smoking in the dark like an idiot.
At the Palmer's house, Maddy goes downstairs in the middle of the night to call Donna because she found a cassette tape in Laura's room. Sarah Palmer wakes up so Maddy hangs up the phone. Back at The Great Northern, Ben walks into his office to see Josie Grossie sitting at his desk in the dark. She presents Ben with the second ledger that Catherine hid in her bedroom, and it looks like Josie Grossie and Ben Grandma Fucker are double-crossing Catherine. He tells her that they'll burn the mill the following night.
Back at the Johnson's soggy shoebox of a home, Leo drives up to the house angrily to retrieve two gas cans. Hank jumps out from the bushes and cold-cocks Leo, leaving him a bloody mess. "I told you to mind the store, Leo, not put up your own franchise." He's not too happy with Leo taking over his shit. Leo walks into his collapsing domicile from Hell's cancerous bowels and tells Shelly to get him a beer as he drips blood. She offers consolation, because as stupid as she is for sticking with him so long, she's cute as all hell. He pushes her to the ground and *exuberant trumpet sounds* shoots him with the pistol!
As Cooper returns to The Great Northern, he is hilariously frustrated to find that the Icelanders are still partying. Upon reaching his room, he finds that the door is open. He walks in, gun drawn, and guess who is naked in his bed? None other than Audrey Effing High School Student Horne.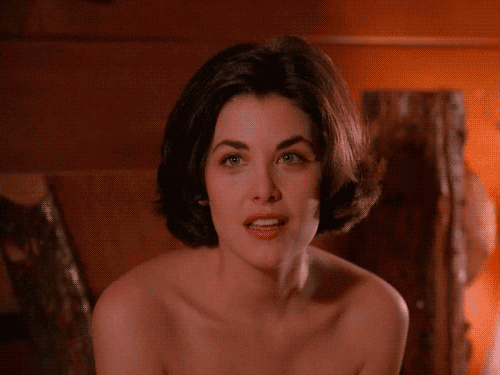 So, I know, I've been really bad at this. But come back this Friday. I'll finish up Season One and then next week we'll move slowly through Season Two. Sound good?