Welcome to Twin Sneaks! I started this column about a year ago, but stopped watching the show as I wanted to wait until the new Season 3 was closer. What I'm hoping to do here is recap all the episodes for you guys leading up to the new premiere on May 21st (EEEEEK!!) After that, I'll continue to recap the new episodes for you, and have them ready to go every Monday or Tuesday! There will, of course, be SPOILERS in these recaps, so please stop reading (or don't, I'm not you mom) and WATCH THE DAMN SHOW ON NETFLIX, YOU JERK!
Twin Peaks – Season One: Episodes 7-8
Recap by Nick Spanjer
Episode 7: Realization Time
Directed by Caleb Deschanel
Written by Harley Peyton
We begin where we left off, with Audrey naked in Cooper's bed. They have a conversation about Audrey's age and Cooper basically explains he can't bone her because he's an agent in the FBI, not because she's in high school. Come on, Coop. They agree to be friends and Cooper strangely tells her that he's going to get malts and fries for the two of them while she gets dressed. The next morning at the Sheriff's station, Andy and Lucy are still having trouble. He walks away from her like Charlie Brown when the phone rings, and she talks to her doctor about something apparently very depressing. Cooper walks in joyfully, playing some kind of wood flute, and honestly, if you didn't know any better, you would really think he just got laid.
Doc Heyward is in the meeting room with Truman and the bird that bit Laura, Waldo. Since it hasn't been fed since the night Laura died, it's physically exhausted and can't mimic at the moment. Doc tries to get Cooper to feed the bird, to which Cooper replies, "I don't like birds." Hawk walks in with a folder and a report confirms that Laura, Ronette Pulaski, and Leo were at Jacques' cabin. There is also a picture inside of Waldo sitting on Laura's shoulder, that either Jacques or Leo took. Cooper places his voice activated recorder underneath the birdcage and awaits Waldo to talk. They determine that the plastic inside Laura's stomach was in fact, part of the poker chip from One Eyed Jack's. They point out that Jacques is a dealer there and plan a trip over the Canadian border to see him. Since it's out of the law's jurisdiction, Cooper oddly suggests that it's a 'job for the Bookhouse Boys,' even though he seems like a pretty hard by the book type of dude. Whatever.
Over at the Johnson dump, an injured Leo watches Bobby walk up to the house through binoculars. He's listening to a police scanner and pulls out a rifle to shoot him, but Bobby walks in the house. Shelly tells him crying that she shot Leo, and she's worried that he's going to kill her now. Bobby tells her that he's going to handle Leo, and includes James for some reason, like she fucking cares and then they make out. Leo hears Lucy talking about Waldo over the police scanner and gets back in his truck and pulls away angrily. Over at the Palmer's, Donna, James, and Maddy listen to the tape they found in Laura's room. You get an idea of how fucked up Laura really was as she mentions to Jacoby that she knows he likes her. They discover that there is a tape missing from the night she died and assume Jacoby had something to do with it. They plan to break into his office to get the tape.
At Horne's Department Store, Audrey is slangin' that perfume to an old woman that can't make up her mind. The lady gets short with her after Audrey suggests she hangs the bottle around her neck. Audrey leaves the counter for a moment to go to a back room and tells a guy that looks like he fell out of a Norman Rockwell painting that there was a bus accident outside, so he runs away in 1950's chivalrous glee. Audrey sneaks into the slob Battis' office and lights a cigarette like she owns the fucking place. She hides in the closet when she hears him coming, still smoking by the way (WHAT?) and watches him give the perfume counter girl, Jenny, a glass unicorn. It's revealed she works at One Eyed Jack's and he presents her with the opportunity to be an escort there. She says, "That sounds cool, as long as they're wealthy," and our theme of 'Old dudes fucking high school chicks in Twin Peaks' continues. When they leave, Audrey comes out of the closet and finds Ronette Pulaski's name in Battis' little black book. Jenny forgot her glass unicorn, so Audrey grabs it on her way out.
At the RR, Hank is discussing prison life with an uninterested Shelly. He manages to get it out of her that Big Ed Hurley helped out quite a bit while he was behind bars. Truman and Cooper walk in right after Hank steals a lighter from a customer at the counter. Truman is there to check in on his parole and you can tell there is some bad blood between them. Shelly asks the boys if they want coffee and after Truman resists, Cooper has one of the best lines in the show. "Harry, I'm going to let you in on a little secret. Every day, once a day, give yourself a present. Don't plan it, don't wait for it, just let it happen. Could be a new shirt at the men's store, a catnap in the office chair, or…two cups of good, hot, black coffee." I love Parks and Recreation, but this was truly the first incarnation of TREAT YOSELF.
At Horne's, Audrey convinces Jenny that she had the same type of meeting with Battis. She shows Jenny the unicorn she took from Battis' desk and sways her to give her the number for the head mistress at One Eyed Jacks. Audrey immediately picks up the phone and calls the number. Over at the Hurley's, Nadine is watching Invitation to Love as the nerdy Chet shoots the bully Montana. Ed walks in and Nadine begins crying because her patent for the silent drape runners was not accepted. The sappy, soap opera music for Invitation to Love ramps up on the TV as Ed hugs her and melodramatically says, "Don't you give up! Don't you dare!"
At the Martell compound, Truman is looking at a mounted bass trophy that Pete caught when Josie Grossie walks in, dressed in some kind of flannel shirt robe bullshit. He asks what she was doing at the motel when they found the One Armed Man, and she plays stupid. He presses her and she tells him that Ben and Catherine are planning a conspiracy by burning the mill down. Later that night at The Great Northern, a tuxedo'd Cooper walks in to meet Truman and Big Ed. He hands Big Ed and Truman $10,000 that the FBI gave him so they can gamble at One Eyed Jack's to fit in. Truman tells Cooper about his Josie Grossie worries since that last revelation, and that he believes what she's saying is true. Cooper asks "How much do you know about her?," clearly not believing the gross things coming out of her mouth. Truman tells Cooper that he got a new Cadillac for their cover and that they're "High Rollers from the Tri-Cities. Oral surgeons, Harry. Big spenders, vacationing among the firs."
Sidenote: If you're from the Pacific Northwest, you know that there aren't really any high-rollers from the Tri-Cities.
As they leave, Audrey walks out to tell Cooper what she learned concerning One Eyed Jack's, but the boys already left. Back at the Martell's, some kind of insurance agent is meeting with Catherine to discuss her life insurance. She notices that $1 million will go to Josie if she dies, and gets suddenly worried, asking the agent to leave so she can discuss it with her lawyer. She checks the desk next to her bed and notices that the second ledger is now missing. At The Great Northern, Audrey leaves a note under Cooper's door. Back at the Sheriff's station, the boys are getting ready by putting on wires and applying disguises. A rainstorm hits when Waldo, now refreshed, begins talking in Laura's voice (yeah, alright). A gunshot rings out and the boys run into the room where Waldo is, to find him shot and killed. Leo runs out of the rain into his truck with a rifle. Motherfucker killed Waldo, yo. As Waldo's blood drips on the donuts, Truman points out, "They shot Waldo." Cooper plays back the tape and hears Waldo in Laura's voice yelling, "Stop it! Leo, no!"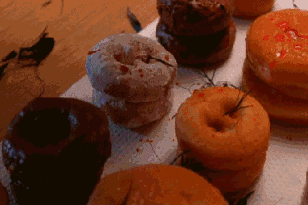 The boys arrive at One Eyed Jack's, and the head mistress, Blackie, immediately greets them. Because, you know, they're high rollers. From the Tri-Cities. For some reason, Cooper tells her that their names are Barney and Fred, like that's a good cover. I'd like to point out that they also took the time to give Cooper glasses, and Big Ed a fucking mustache and Soul-Glo hair from Coming to America, but Cooper decided that fucking 'Barney and Fred,' of the fucking Flintstones was somehow good cover. Anyway, Cooper and Ed head into the gambling room to find Jacques.
Back at the Palmer's place, Maddy is sneaking downstairs so she can meet with the Youth Sleuths, Donna and James, and break into Jacoby's office. An especially creeptastic Leland Palmer is sitting silently in the dark and watches Maddy sneak out. Hug Me James is waiting in some park where he made out with Donna earlier, and sees Maddy get out of the car looking exactly like Laura in a blonde wig. Donna, in her Nancy Fucking Drew hat, sees them look at each other and gets annoyingly jealous, and fuck man, is this story line over yet? No? Shit. At The Great Northern, the Icelanders are singing in Ben's office, while Jerry holds an enormous pine cone. Jerry tells Ben that they want to finalize the Ghostwood development deal at One Eyed Jack's. Ben calls Josie Grossie and tells her that Catherine needs to be at the mill. Hank is sitting right by Josie as Ben calls.
At One Eyed Jack's, Audrey walks in to meet with Blackie. Audrey puts on a show by calling herself Hester Prynne, saying she was from Calgary. Blackie doesn't believe her and makes her prove herself, so Audrey ties a knot out of a cherry stem with her tongue. Again. High school girl. Blackie is impressed and hires her. I remember the first time watching this with my ex-wife years ago, and she said she could do it, and that it was really not that impressive when people could do that. I asked her prove it and she did, so either it really isn't that impressive, or my ex was Audrey Horne-talented.
In the poker room, the boys are playing Blackjack when Jacques Renault walks up to the table that Cooper is playing at. At Jacoby's office, the Dr. is watching Invitation to Love, when Maddy calls pretending to be Laura. He takes the bait and walks to his door, finding an envelope. He pulls out a VHS tape and plays it, seeing the spitting image of Laura holding an edition of that day's paper. He picks the phone back up and Maddy tells him to meet her at the park. When Maddy hangs up the phone, Bobby is creeping in the bushes watching, and sees James ride off. Crazy thing is, someone is watching Bobby watching, so we've got that triple layer shit going down!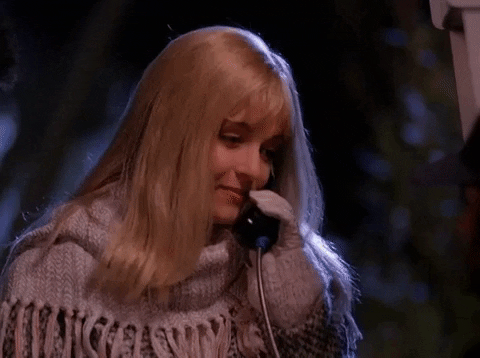 Jacoby watches the tape again and notices the gazebo from the park, and runs out of his office, getting in his car. The Youth Sleuths see him leave and run up to his office, while Bobby, still creeping, puts a bag of coke in Hug Me James' bike's gas tank. "Say goodbye, James." Whoever the creep is in the park is watching Maddy alone and the episode ends.
Episode 8: The Last Evening
Directed by Mark Frost
Written by Mark Frost
Ah, the Season One finale. Something strange happens between the first and second seasons of Twin Peaks. It's hard to pinpoint. Perhaps it's David Lynch's sudden disinterest as he exited to make Wild at Heart, or the pressures of the network for Frost and Lynch to answer the whodunnit, but in ways, this is the episode in which Twin Peaks lost its innocence. I personally, am a big fan of some of the darkness in the second season, but will admittedly be among the first to speak to its far too often absolute trashiness. More to come, but really, the show could have gone a much different direction after this finale. Anyway, let's get into it.
The Youth Sleuths are digging around Jacoby's office, mostly stunned to find tiny umbrellas that Jacoby saved from his many adventures. Donna grabs a coconut from the decorative tree and opens it to find the missing tape along with the other half of the Best Friends necklace. James and Donna ride off after taking the tape and the necklace and Bobby watches them leave. Jacoby arrives at the park and sees Maddy dressed as Laura when the creep who was behind Bobby at the end of the last episode clubs him in the head, effectively causing a heart attack.
At One Eyed Jack's, Cooper begins talking to Jacques. He turns down one of the escorts, which is weird, because she's probably in high school. Cooper presents Jacques with the broken poker chip (the one that fell out of the cuckoo clock and had a piece missing in Laura's stomach), and Cooper says he's a friend of Leo's. Jacques plays dumb so Cooper asks if he can buy him a drink. Up in Blackie's office, Blackie is playing with tarot cards, because that's a typical thing to do, when Audrey walks in all skimpy and escort-like. Audrey looks down and sees Cooper on the security monitor that's sitting on Blackie's desk while she presents herself to Blackie. Blackie tells Audrey that all the new girls get to meet the owners on her first night, but Audrey doesn't know that the owners are her dad and uncle, and wow, it gets weird here. She tells Audrey to pick a card from a poker deck, so Blackie has playing cards and tarot cards in front of her at this point, and what the fuck. Audrey picks the Queen of Hearts, of course.
In the surveillance van outside of One Eyed Jack's, Hawk and Big Ed are listening in on Jacques and Cooper through Cooper's wire. Cooper tries to get Jacques to talk about Leo by making up a story that Leo is playing Jacques for a fool. He mentions Laura, and Jacques tries to leave. Cooper convinces Jacques that he's financing the drug running out of Canada, so Jacques stays to talk. Cooper gets Jacques to do a drug run that night for $10K by meeting him at a power plant. Once Jacques finishes his drink, Cooper nonchalantly asks about the night with Laura at his cabin. Jacques warms up and mentions that the bird had a thing for Laura by biting her and saying her name constantly. He mentions that himself, Laura, Ronette Pulaski, and Leo were in the cabin, high. He says Laura was tied up and Waldo began pecking at her, causing her to scream. Jacques then mentions, horrifically, as the camera zooms in on his obese mouth, that Leo jammed the chip in her mouth as he was (from what it sounds like) raping her.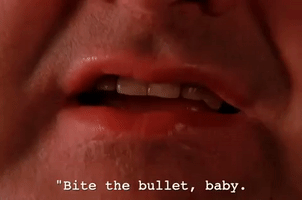 In her dressing room of the brothel at One Eyed Jack's, Audrey is waiting. Back at the Johnson toilet bowl, Shelly walks into her kitchen to wash her hair with dish soap in the sink, because at some point, she decided to marry Leo Johnson, and this is the life you get. She gets soap in her eye and as she grabs for the towel, it gets pulled away by Leo. He grabs her and begins yelling that she made him do it. Over at the power plant that Cooper told Jacques to meet him at for the drug run, Truman and Andy are waiting for Jacques to show up, and discuss Andy's problems with Lucy. Hawk and Truman have a really uncomfortably long back and forth over the radio, using fishing references to let each other know that Jacques was on the way, then see Jacques roll up in some kind of El Camino thing. They ambush Jacques and Truman tells him he's under arrest for Laura's murder. Jacques momentarily incapacitates his arresting officer and steals his gun, pointing it at Truman. Andy shoots Jacques, thus saving Sheriff Truman's life, and suddenly, StellAndy has his groove back.
At the Heyward's house, the Youth Sleuths listen to the tape they got from Jacoby's coconut. On the tape, Laura calls James dumb and his fivehead visibly expands. She also mentions that she got off on almost being killed by her "mystery man," and Hug Me James needs a hug as he hears that this mystery man drives a red corvette. As the tape ends, Doc Heyward tells Donna that there is an emergency at the hospital and he needs to go. Donna consoles James for being called dumb and he says that it's OK and he needed to hear it. Something tells me he's used to it. The Youth Sleuths agree that Jacoby was trying to help Laura, not kill her.
At the Packard Sawmill, Leo is loading in gas cans and looks over at his tied up wife, Shelly. He picks up some kind of Kevin McCallister apparatus that is hooked to a kitchen timer and sets it, telling her again that her death is all her doing. He also mentions that he's going to kill Bobby. He screams, "You broke my HEART!" like only Leo Johnson can and slams the door. Over at the Hurley's place, Nadine is in some kind of Disney princess dress and pours out a cocktail of about 50 pills. She pours a glass of water and says goodbye. At the Martell's, Hank receives a suitcase full of money from Josie Grossie for all that he missed out on in prison. Josie is one nasty cat, as they clearly made some kind of deal over something that happened before he went to prison. He tries to snake more money out of her by suggesting that he took the fall for Josie's murder of her late husband Andrew Packard (owner of the Packard sawmill that Josie inherited). They go back and forth for a while, while Hank keeps quoting things that he read in jail, and he ends up slicing their thumbs and they become blood brothers or some shit, but holy hell – Mark Frost has this amazing shot where Hank talks for about a minute straight with a mounted buck's horns filmed right above his head. It's ridiculous. Another Twin Peaks signature moment.
Back at the mill, Catherine is digging around in the Accounting office for the ledger. Pete walks in concerned, and she asks him where it is, convinced he's helping Josie. She asks him to forgive her for being awful, and takes advantage of his kindness. He falls for it and hugs her. At the Sheriff's department, the boys are recounting Andy shooting Jacques in heroic fashion, while Lucy listens nearby. Her boner comes through the TV 3D style, so Andy chases her into a closet and closes the door. As he kisses her, she pushes him away for a moment and tells him she's pregnant. Andy, horrified, opens the closet door and walks away without saying a word. Lucy is clearly pissed, when the phone rings. Bobby is pretending to be Leo and tells Lucy to tell the sheriff that James Hurley is an "easy rider."
At the hospital, Cooper and Truman are interviewing a recovering Jacques Renault about Laura and Ronette the night Laura died. He tells them that he took the pictures for Flesh World but it was their idea to become paid escorts. He and Leo got into a fight because Leo smashed a whiskey bottle into Jacques for no reason, and that's why their blood was all over the scene and on Leo's shirt. He passed out that night and everyone had left the cabin by the time he awoke. In another room, Jacoby is recovering from his heart attack on a bed. Doc Heyward mentions that Jacoby said he got a phone call from Laura Palmer and was jumped on his way to see her. Over at the Martell's, Catherine is frantically searching their library for the ledger while Pete finds his high school yearbook. The phone rings and on the other end, Hank tells Catherine that what she's looking for is at the mill. She grabs a gun and leaves for the mill.
At the RR, Hank is telling Norma about prison and how he dreamed of her while locked up. He hams it up about how he's going to change for her, and she for some reason believes all this shit and kisses him. Big Ed gets home and finds Nadine crumpled into a mess on the floor and freaks out, calling 911. At the Sheriff's department, the boys arrive back and Lucy tells them about "Leo" calling. She tells him that she heard a clock striking in the background, and Cooper and Truman put together that it was the same park from where Jacoby was attacked. Hug Me James walks in, and before he can speak, Cooper intervenes and tells Harry that he should investigate James' bike while Cooper talks to James. As they walk away, Leland Palmer walks in, asking about the arrest of the suspect that murdered his daughter, Jacques Renault. Truman tells Leland he can't tell him anything since Jacques is just a suspect and leaves. Doc Heyward tells Leland to go home, as Leland asks if the Doc is going back to the hospital, to which he replies, no. Leland turns toward the camera, dramatically insane, and utters, "Hospital."
Hug Me James gives Cooper the tape that they just listened to, to which Cooper only seems mildly interested. Colonel Fivehead tells Cooper that they need to be looking for someone with a red corvette, when Cooper tells HMJ that Jacoby had a heart attack. James looks surprised and Cooper asks what kind of game he's playing when Harry walks in with what was planted in his bike by Bobby. Cooper shows James the bag of coke and again, James looks surprised (that's all he did the whole scene). At One Eyed Jack's, Ben is signing the Ghostwood contracts with the Icelanders while the high school girls fondle away. As they sign, Hank calls Ben to tell him that all plans are going ahead with the mill, including Catherine's presence, and that he's going to give Leo a house call. Ben tells him to proceed.
At the Johnson fart factory, Bobby shows up to the house and Leo suddenly dips out from the shadows. Bobby plays dumb, pretending he is there to see Leo, and Leo is at full crazy in this scene. He knocks Bobby down and swings an axe at him, barely missing Bobby. Leo punches Bobby into the TV and as he goes to swing the axe into him, he's shot again, this time by Hank Jennings. Leo collapses on the couch and Bobby runs out the door. Leo watches the same episode of Invitation to Love where the nerd shoots the bully. At the mill, Shelly is still tied up when Catherine arrives with her gun ready. She finds Shelly and the McCallister contraption goes off. Really, the timer goes off and a tiny little *boop* explosion happens, slowly starting a fire in the mill. Catherine asks who she is, and in a town this small, you'd think you would know everyone's name, but whatever.
The fire spreads as Catherine ponders what she needs to do next since she was double-crossed by Ben and Josie Grossie, then lets Shelly down from her bindings. As the mill comes burning down, the two run out of the room before the scene changes to a gloved hand smashing a fire alarm at the hospital. Now, I don't exactly know medical or hospital protocol, but wouldn't the patients be the priority in those situations? The fire alarm goes off and the nurses and doctors flee the floor, and that's always bothered me about this scene. Anyway, the gloved hand turns out to be Leland, as he walks into Jacques' room and suffocates him to death with a pillow. Bye-bye, Jacques.
Over at the burning Packard Sawmill, Pete assumes Catherine is inside so runs in to save her. Back at One Eyed Jack's, Ben completes the signing of the Ghostwood contracts with the Icelanders. He lights a cigar in celebration with Blackie, and asks to have a look at the "new girl." In her dressing room, Audrey is getting her outfit sewn on by some weird Quasimodo lady, and as Ben walks in, the bent-over lady escapes into some hidden mini-door along the wall. It's all insanely strange.
Well. Relatively. Ben walks in, not knowing he's about to bang his high school daughter, when Audrey finally puts it together that the owner of One Eyed Jack's is her dad. He walks toward the bed smiling and the scene fades out. Back at The Great Northern, Cooper is talking to Diane at 4:30 AM. He notices that the Icelanders have left and is relieved. Cooper opens his door, and sees an envelope on his floor that has 'My Special Agent' written on it. The phone rings, and it's only static. With this comes a knock at the door. He assumes it's room service, so he tells the person on the other end that he needs to go and sets the phone down. As he walks toward the door, the static clears and Andy's voice can be heard saying that Leo Johnson has been found and was shot. When Cooper opens the door, he looks up and is shot three times in the chest by a gloved hand. Roll Credits.
I promise I'm going to have the rest of these ready to go for you by the 21st! Sorry. Be sure to listen in to our new Podcast episode on Monday 5/8, as we'll have the whole Twin Peaks Experience, covering seasons one and two, as well as the movie Fire Walk With Me ready to discuss with special guest, and fellow Peaks Freak, Tyler 'Street Tang' Aker!