What is 'Sloppy Saturdays'?
I realized that I own over 300 movies, many of which I have not watched a second time. Whether on Blu-Ray, DVD, or the legendary LaserDisc, I have a lot of films I need to watch again. So, I've decided I should probably go through these and justify why I own them, and perhaps, why you should too. I put them all into a database and will randomly mix them up once a week. Come back every Saturday for a new review.
-Nick, Editor of CinemAbysmal
Sloppy Saturdays – Volume Three
Arachnophobia (1990) – Comedy |Thriller
Directed by: Frank Marshall
Starring: Jeff Daniels and John Goodman
Format I Own: LaserDisc
Synopsis
Arachnophobia begins like a lot of other movies in the '90's: Big city doctor (Jeff Daniels) moves to a small town with the intention of taking over the town's only medical practice. Little does he know, a spider-bitten corpse from Venezuela was just dropped off and the carcass brought a huge and aggressive, 8-legged freak with him. Somehow, this baseball mitt-sized tarantula mates with a spider in this tiny farm town, and soon all Gremlinsesque hell breaks loose.
What I Love
I think love might be too strong of a word to describe how I feel about this movie, but I did love it as a kid and it's definitely got some nostalgic value to it. By no means, though, is it a great movie. The effects are dated, they tried really hard to make it funny, which comes off as unnatural, and it's hard to have Jeff Daniels carry your movie. Every scene with John Goodman is pretty damn good, but really, there's not quite enough. The musical score is goofy as all hell, as well. But really, if you saw this as a kid, you'll probably enjoy it merely for nostalgic reasons like I did.
My Favorite Scene
For almost the entire movie, Marshall and crew dog hard on this couple that really likes food. This guy is the town mortician and is constantly eating Ruffles around the corpses, and at a dinner party, he and his wife take full paper plates of food home. Well, when it's time for the outbreak of spiders upon the town, one climbs into a disgustingly buttery bowl of popcorn that the portly couple is eating out of while watching Wheel of Fortune. It's standard 'it's funny 'cause he's fat' fodder, but I still enjoyed it, especially when the murdering spider crawls out of the mortician's nose after killing him.
What You Might Not Like
I think based on the title, it's pretty obvious why a lot of people would not be able to handle this film. From the beginning, the spiders are big, they're aggressive, and their actions play on everyone's basic fears of spiders that bite. While watching, I admittedly lifted my feet off the floor a few times in momentary fear of some scuttling beings. They hiss, they jump and fly through the air, they have dripping, black fangs and they really couldn't be more frightening.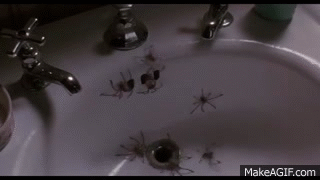 How You Can Watch
Rent for $2.99 on Apple TV, Google Play, and Vudu
Final Score: 2.5/4
_____________
Similar Films: Gremlins, The Mist, Eight Legged Freaks