The O.C. Sundays – Volume Eleven – Season One: Episode Eleven – The Homecoming
Recap by Holly Hill
Why Rewatch The O.C.?
The O.C. premiered on August 5, 2003 and ended on February 22, 2007. Or May 18, 2006 if you like to pretend that the fourth season never happened (a lot of people do, it's okay). The O.C. not only introduced a lot of people to some fantastic music through its heavily bought mix tapes (this is before YouTube, Spotify, & Apple Music), it also created Chrismukkah, and inspired a decades worth of 'THE REAL' reality shows.
Not sure what I mean by that? Well The O.C. prompted the reality show Laguna Beach: The Real O.C., and a thousand other spinoffs to it. The catch phrase 'The Real O.C.' morphed into The Real Housewives of fill in the blank rich people cities.
Needless to say, despite its shortcomings, The O.C. had some great writing, a fantastic soundtrack, and truly inspired a generation worth of TV, for better or worse. The O.C. is the only TV show I own on box set. I haven't watched it in awhile, so why don't we watch it together? Whether you're new to The O.C. (you can stream it on Hulu) or a long time fan, it's a show anyone with a love for the dramatic can enjoy.
Recap:
It's Thanksgiving and – wait that was quick, didn't school JUST start? Whatever. It's Thanksgiving and Kirsten is trying to cook, which isn't a good sign considering her collection of take out menus. She wants Ryan to have a nice Thanksgiving in the house. Seth begs her to reconsider because Thanksgiving is his favorite holiday (remember that he said this, because it's not).
Kirsten: "Are there pans? Do we have pans in this kitchen?"
Sandy: "Not inspiring a lot of confidence, honey."
The phone rings and it's a collect call from prison from Trey, Ryan's brother who got him into this whole mess. Trey wants him to come visit him in jail. Today. On Thanksgiving. Apparently no one has been to see him since he's been in DA JOINT.
Ryan says he'll go, but he's hesitant because he knows Trey will want something from him. Marissa is off to spend Thanksgiving with her Mom and Caleb, much to her disappointment. Seth asks for Ryan's advice, telling him that Summer told him she liked him, but he also likes Anna now too.
Jimmy is having Thanksgiving at The Cohen's and he brings Marissa by before she has to be over at her Mom's house next door. Sandy has invited Rachel to Thanksgiving in hopes that her and Jimmy will hit it off. Rachel is angry because Jimmy is felon, and she thinks Sandy just doesn't want to deal with what's actually going on between them. Sandy says there is NOTHING going on. Fuck off Rachel, you're in a married man's home that his wife invited you to. Maybe stop acting like such a whore for five seconds. Marissa offers to go with Ryan to visit Trey as she wants to see where he grew up. He refuses, clearly not wanting her to see Chino. He gets in the car to take off only to find Marissa in the passenger seat, she lies and says her Mom said it was okay.
At the jail, Trey (still played by pilot episode Trey, they trade up for a better model later), and Ryan visit while Marissa sits alone at a table. Worthwhile for you to come Marissa. Trey is impressed with how Ryan is doing, and finally admits that he owed six grand to some dudes in Chino the night he was arrested. The people he owes the money to have friends in jail that will keep beating him up until he repays them. He wants Ryan to pick up a stolen car to drop off at a junk shop to pay back to debt Trey owes. In the car, he tells Marissa this and she insists on coming with.
Back at the house, Anna shows up and is immediately very impressive in Sandy and Kirsten's eyes. Seth starts to rethink his crush on Summer….until Summer shows up. She doesn't want to spend Thanksgiving at her house so she was hoping to crash Marissa's Thanksgiving only Marissa isn't there. She wants to talk about the whole 'I like Seth Cohen' thing, but you know ANNA is there now. Her arrival is quickly preluded with Julie and Caleb showing up because their caterer's truck broke down.
Julie isn't super thrilled Jimmy is around, and Anna isn't super thrilled that Summer has showed up. Julie also wants to know where in the hell Marissa is because (surprise!) she didn't tell her she was going to visit the Chino jail today. Seth takes Summer to the pool house hoping to sneak her in under Anna's nose. Summer quickly makes out with him while Anna is making sweet potatoes. None of this is awkward at all.
Marissa and Ryan show up at Theresa's house, an old flame of Ryan's who is then introduced to Marissa. Awkward. They're here to pick up that stolen car that Arturo, Theresa's brother, has out back. The house is in full Thanksgiving swing and although it's a more homely atmosphere, it's clearly filled with love and family. Theresa admits to Marissa that she's upset because Ryan just left. He didn't call them or tell them where he was, she's upset because she feels like maybe she didn't know Ryan at all. Arturo tries to talk Ryan out of taking the car, saying that Trey isn't worth it.
At the Cohen's, Seth takes Anna to his room as he keeps Summer locked away in the pool house not wanting either girl to know they're here. He makes out with Anna and basically is slowly becoming a jerk. He calls Ryan to let him know about his dilemma and Ryan says he'll call him when he and Marissa are on their way home. Seth tells him her Mom is looking for her and then accidently loudly shouts to the entire room that Marissa is in Chino. Julie is pissed and Kirsten is drunk.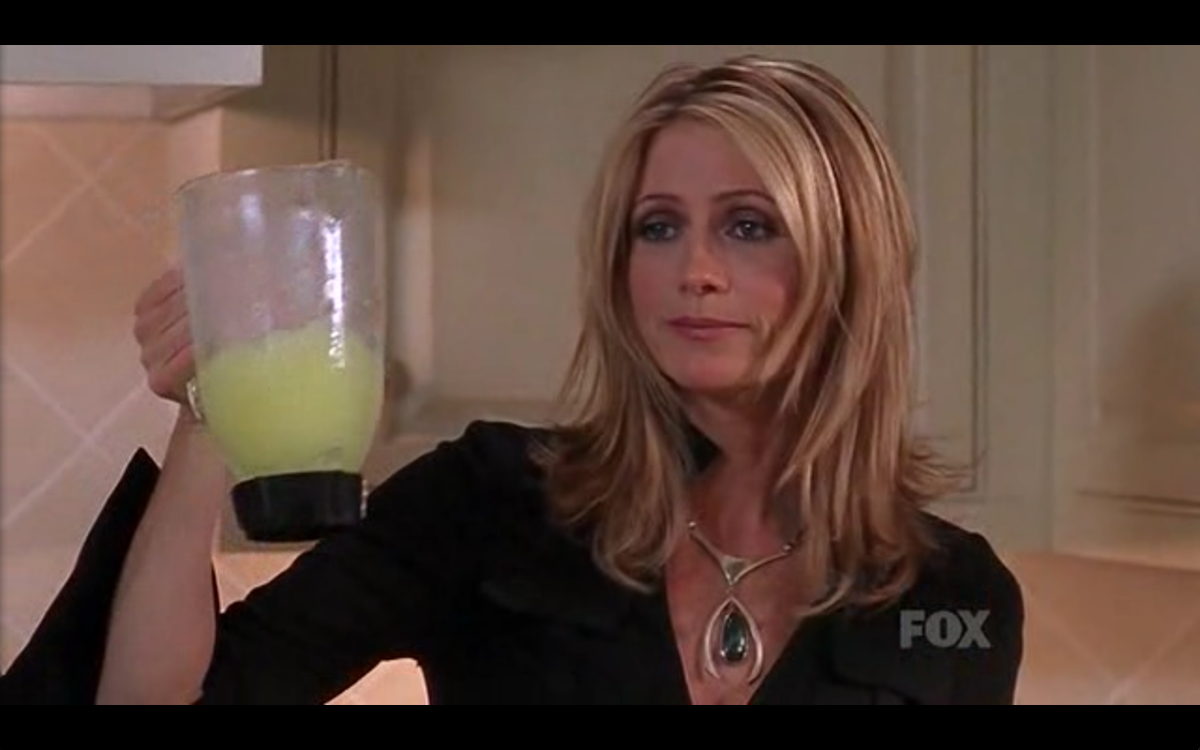 Everyone is fighting in the kitchen. Sandy and Rachel against Caleb over the wetlands, Julie is fighting with Jimmy, and Kirsten is also fighting with Caleb. Both Anna and Summer get tired of hiding out so they both meet in the kitchen at the same time just as the turkey starts burning. They are both pissed and walk out.
Ryan is angry that Marissa lied to him and he asks her to take the car they drove in home while he delivers the stolen car. Ryan delivers the car to some pissed off people who say that the car isn't enough and he needs to pay interest so they start beating him up. Luckily Marissa shows up just in time in a getaway car. He asks her what she thinks she's doing, she says she followed him, and he says good idea. They go back to the prison and Ryan tells Trey he's not going to do anything else for him. Trey gives him permission to forget about him (for now).
Also turns out that Marissa found out from Theresa that Ryan used to do musicals, which she finds adorable.
Best Song of the Episode:
"Orange Sky" by Alexi Murdoch
Best Quote:
Number of Non-White People with Actual Lines in This Episode:
Theresa, Autro, and her mother are Latino and they have lines, but Theresa looks pretty white to me so hard to say.
Weird 2003 thing:
Minus the flip phones in this episode, it could have just as well taken place in 2017.
Best Fashion Statement:
Anna's bow shirt. Adorbs.