The O.C. Sundays – Volume Twelve – Season One: Episode Twelve – The Secret
Recap by Holly Hill
Why Rewatch The O.C.?
The O.C. premiered on August 5, 2003 and ended on February 22, 2007. Or May 18, 2006 if you like to pretend that the fourth season never happened (a lot of people do, it's okay). The O.C. not only introduced a lot of people to some fantastic music through its heavily bought mix tapes (this is before YouTube, Spotify, & Apple Music), it also created Chrismukkah, and inspired a decades worth of 'THE REAL' reality shows.
Not sure what I mean by that? Well The O.C. prompted the reality show Laguna Beach: The Real O.C., and a thousand other spinoffs to it. The catch phrase 'The Real O.C.' morphed into The Real Housewives of fill in the blank rich people cities.
Needless to say, despite its shortcomings, The O.C. had some great writing, a fantastic soundtrack, and truly inspired a generation worth of TV, for better or worse. The O.C. is the only TV show I own on box set. I haven't watched it in awhile, so why don't we watch it together? Whether you're new to The O.C. (you can stream it on Hulu) or a long time fan, it's a show anyone with a love for the dramatic can enjoy.
http://tvmegasite.net/images/primetime/oc/guide/secret.jpg
Recap:
It's time for a perfect opening sequence. The kind that makes you fall in love with the show if you weren't already. Seth comes into the kitchen feeling sick the Monday after Thanksgiving. Ryan asks if he has the Summer flu, and if he might need some Anna-biotics. Clearly this dude does not want to face his women. Kirsten comes in a few moments later deciding she doesn't feel good either, but in reality she doesn't want to go yogalates with Julie and her 'friends' because she got drunk at Thanksgiving and she's sure Julie has already told everyone she has a drinking problem. Ryan and Sandy yuck it up at the two because for once they haven't done anything wrong. Kirsten tells them to enjoy it while they can because knowing them it won't last long. Also, yogalates.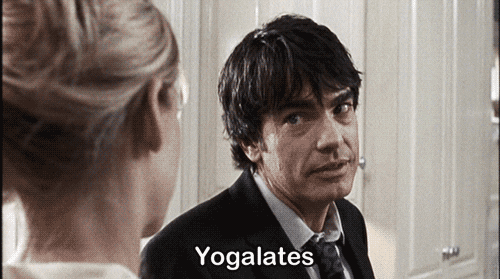 It's truly one of the great openings on the show and I recommend you watch it here:
At school, Ryan and Luke get teamed up to do a project. Awkward. Summer and Anna bond over their mutual dislike of Seth right now. They form a strange alliance pretending to be friends to let Seth know that they are both so over it. Ryan shows up at Luke's house to find his younger brothers play fighting. Luke's Dad comes home and his Mom makes them a snack. It's all very humanizing for Luke in Ryan's eyes. Luke isn't a bad guy, he's just kinda a douche. Luke shows that he's actually kinda smart too. He has a bunch of ideas for their project and he says they can use his Dad's projection system at his office at the car dealership and they can head over there in a bit. They show up at the dealership, but Luke's Dad isn't there. They mess around with the cars for a bit until Luke's Dad shows up his business partner Gus. The adults don't see them and so they start making out. Because Luke's Dad is a closet homosexual. Ryan and Luke take off but not before his Dad sees them and Luke begs Ryan not to tell anyone.
Sandy is helping Jimmy with this legal case again. So we're back to that. Sandy says he's going to have to convince Julie to sell the house because she can't afford to live there if he's in jail. Jimmy calls Julie who refuses to sell and she thinks that he deserves to go to jail. She's not super wrong, just super bitchy about it.
At yogalates the bitches are all up on Kirsten about being drunk at Thanksgiving. Kirsten isn't having any of that shit though and confronts Julie right away. "If we're really all friends here, why don't you start acting like one."
The next morning Marissa asks Ryan how it went with Luke. Ryan tells Marissa about Luke's Dad and swears Marissa to secrecy. At school, Ryan asks Luke when they will finish the project. Luke says he'll finish it himself and then calls Seth a queer. Cool. Seth goes to class only to find Anna. He tries to talk to her and she does not want to hear it. Summer walks in and ignores Seth to chat with Anna. Seth doesn't understand what kind of hell he is living in.
At the second yogalates class, Kirsten asks Julie is she's okay because she heard about them maybe having to sell the house. Julie says they aren't selling the house. Kirsten says she can help find a new house for them or her father, Caleb, could for her since they're so grossly chummy. Julie confesses that Caleb and her broke up. The yogalates bitches show up and say they heard some juicy gossip this morning from one of the girls who got her car detailed at Luke's Dad's dealership this morning. I bet it's super gay news.
Jimmy and Sandy meet again for lunch and Jimmy thanks him for all his help. Then he sticks his foot in it by telling he's ESPECIALLY grateful because of that time he tried to make out with his wife. Sandy now hates Jimmy and is mad at Kirsten for not telling him. DOESN'T MEAN YOU DIDN'T HAVE THE SAME THING HAPPEN TO YOU WITH RACHEL AND DIDN'T TELL KIRSTEN!!!! Jump off dat high horse. Sandy goes home to confront Kirsten and nothing gets resolved there except now they're fighting.
Meanwhile news of Luke's Dad is spreading like wildfire. All of the parents know, and they told their kids and by the end of the day Luke's getting shit from all sides. Ryan thinks Marissa told someone, Marissa thinks Ryan told someone, and Luke thinks Ryan told someone. Really it was just that yogalates bitch at the dealership. The next day Luke isn't in class and Marissa and Ryan are fighting. Anna and Summer are pretending to be best friends until Seth confronts them both and apologizes in a very sincere and kind way that makes them both like him again. This makes Summer and Anna not like each other again because it looks like they're back to being competitive.
On the third day of yogalates Kirsten and Julie ditch out because the bitches won't shut up about Luke's Dad. They go get fried food and beer. My kind of women. They bitch about Caleb and talk about how they hate that he calls Kirsten, Keekee and that he calls Julie, Juju. Kirsten makes a good speech about how Caleb is trying to replace her mother, but he doesn't know how. How he just needs to be happy with someone for the time he has left. Julie comes by later with flowers for Kirsten thanking her for her saying what she said. Caleb called and Julie repeated Kirsten's sentiments back to him as her own and now they're back together. Kirsten's face is priceless. Julie says Caleb is going to buy her house as an investment so Jimmy won't go to jail and she'll have a place to live.
Summer finds Seth and says that was the first apology she's ever had from a boy and it was the nicest. She asks what Seth is doing Saturday. Guess they're going out! Oh wait, now Anna is telling Seth she also liked his apology and asks what HE is doing Saturday night. He goes with honesty and tells her about his date with Summer. Anna asks what he's doing Friday night. Apparently he's going out with Anna. Oh Seth, you never learn.
Ryan goes to Luke's after school, but Marissa answers the door. They're both there to comfort Luke. Ryan walks into a very somber household from the one he saw previously. Luke takes off when he sees his Dad and Ryan and Marissa follow. Luke gets drunk at the baseball field and Marissa and Ryan listen to him monologue. Some dudes show up while Marissa is out in the car getting her jacket. He calls Luke a fag and Luke and Ryan double sucker punch the dudes. Then the rest of the dudes show up and they proceed to get their ass kicked.
At the house, Sandy is asking Seth to ask Kirsten things because he refuses to speak to her. It's not awkward at all. Then Marissa, Ryan, and Seth show up.
Marissa and Ryan make up and Luke's Dad comes to pick him up. He says he loves his wife, his kids, and he never wanted to hurt anyone. He says he should just disappear. Sandy says he shouldn't disappear, it's the worst thing he could do right now. Luke overhears and goes home with his dad. Kirsten and Sandy make up.
The next day at school Luke, Marissa, Ryan, and Seth all show up together. Luke says he'll always be the guy with the gay dad, Ryan says he'll always be the guy who burned a house down, Marissa says she'll always be the girl that tried to kill herself, and Seth says he'll always be Seth Cohen. Can't change what other people think about you.
Stay tuned for next week's OC Sunday because it's CHRISMUKKAH IN JULY!
Best Song of the Episode:
"We Used To Be Friends" by The Dandy Warhols
This song plays throughout the episode and it's just super perfect for each scene.
Best Quote:
Number of Non-White People with Actual Lines in This Episode:
Zip, Zilch, None.
Weird 2003 thing:
Luke shows Ryan a new Ferrari that has just come into his Dad's lot. It has a new sound system in it and when Luke shows Ryan the set up it's got a CD Player in it, which is pretty dope.
Best Fashion Statement:
Nothing stands out. Actually a pretty tame fashion episode considering Anna was in it.