The O.C. Sundays – Volume Six – Season One: Episode Six – The Girlfriend
Recap by Holly Hill
Why Rewatch The O.C.?
The O.C. premiered on August 5, 2003 and ended on February 22, 2007. Or May 18, 2006 if you like to pretend that the fourth season never happened (a lot of people do, it's okay). The O.C. not only introduced a lot of people to some fantastic music through its heavily bought mix tapes (this is before YouTube, Spotify, & Apple Music), it also created Chrismukkah, and inspired a decades worth of 'THE REAL' reality shows.
Not sure what I mean by that? Well The O.C. prompted the reality show Laguna Beach: The Real O.C., and a thousand other spinoffs to it. The catch phrase 'The Real O.C.' morphed into The Real Housewives of fill in the blank rich people cities.
Needless to say, despite its shortcomings, The O.C. had some great writing, a fantastic soundtrack, and truly inspired a generation worth of TV, for better or worse. The O.C. is the only TV show I own on box set. I haven't watched it in awhile, so why don't we watch it together? Whether you're new to The O.C. (you can stream it on Hulu) or a long time fan, it's a show anyone with a love for the dramatic can enjoy.
Recap:
We open on some witty banter from the Cohen's who have just returned from grocery shopping. They are preparing for a visit from Kirsten's Dad, Caleb, and his new girlfriend. It's very clear that Sandy is not looking forward to this as he clearly has animosity toward his father-in-law. Ryan is also not looking forward to it, considering he burned down Caleb's house.
Caleb suddenly enters and tells Sandy 'shalom,' to which Sandy can hardly fucking believe the nerve of this guy. Gabrielle, Caleb's new girlfriend, is out back for a swim and much to Seth and Ryan's extreme delight, she is basically a 24 year old supermodel.
Caleb makes some digs at Seth still not being a football player, and he gives Ryan shit for burning down one of his houses. Gabrielle flirts mercilessly with Ryan and Seth in the pool, while they discuss Caleb's birthday party set two days from now. Gabrielle convinces the boys to invite Summer and Marissa. Ryan is unsure because Marissa may be back with Luke and Seth is unsure because he still isn't sure Summer knows his name.
Luke drops by Marissa's house after getting his stitches out of his gunshot wound. Marissa clearly isn't that excited to see him. Luke knows how lucky he is to have a second chance with his life, and since Marissa was there for him in the hospital, he wants to be there for her with her whole 'soon to be poor' thing. Luke gives her a stuffed animal and tells her they'll take it slow. Super romantic. *eye roll*
Sandy and Kirsten talk to Caleb about his birthday party that Kirsten has been planning. Caleb doesn't sound that into it, but Sandy insists that he has to go because Kirsten has been working hard on it all month on top of doing all the actual fucking work for his company. Caleb brings up her adoption of Ryan, annoyed she didn't consult him. As punishment, he says he's going to scale back her responsibilities at work so she can spend some time with her new son. He's clearly not passive aggressive at all.
Julie comes by Jimmy's office to rub it in his face that she had to return China, Caitlin's horse. Julie says she wants to get a divorce. If she can't give his daughter a pony then she doesn't want him at all!
Ryan walks over to Marissa's and she answers the door so they can breathe/hey at each other. He wants to invite her to the party tonight but Luke is there and suddenly is SUPER kind to Ryan for kind of maybe sort of saving his life, and calling Marissa after it happened to visit him in the hospital. THANKS FOR GETTING US BACK TOGETHER RYAN!
Gabrielle stops by Ryan's work for a drink, because apparently he still has that job. They flirt and she says he must think it's weird that she's with an older guy. Ryan replies with, "I live in a pool house." Great dialogue. Marissa stops by his work too, to tell him Luke wants to get back together with her. They 'hey' and she tells him she doesn't know what to do or who she wants to be with. Ryan tells her to let him know when she's made up her mind and Marissa gets all sad. Just make your own personal decision bitch.
Since Marissa can't make a decision for herself, the next day she invites Summer to lunch to talk it over. Summer says she's better off with Luke because Ryan comes from a land of knife fights and sex on the hood of cars. Marissa says that's The Fast and the Furious, not Chino. Well, fuck it might as well be Chino with the way you assholes are always talking about it. Seth and Ryan skateboard/bike by and they stop to 'hey' some more at the girls. Summer lets Marissa and Ryan have alone time while asking Seth to accompany her to the salsa bar after he awkwardly introduces himself to her for the millionth time.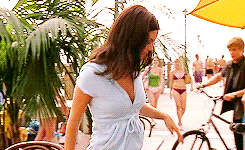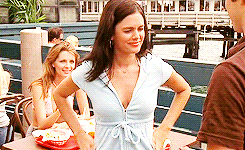 Summer gets some picante on her pinky which she doesn't like, so she asks Seth to lick it off. Summer asks Seth to take her to Caleb's party, and although he's unsure why she wants to go with him, he agrees to take her. Ryan apologizes for telling Marissa that she has to make up her own mind and invites her to Caleb's party too, but Marissa she says she's already going…with Luke.
Summer and Marissa talk about the party and how Summer is excited to have Seth introduce her to hot, rich, 20-something bankers. So now we understand why she wanted Seth to invite her.
At dinner that night, Caleb says that Seth has a quick wit and asks why he isn't better at skirt chasing. Your misogyny is showing Caleb, christ. Seth brags that Summer asked him to his party to which Sandy is clearly impressed, because as he says, "Summer is hot." Seth tells him to please stop. Gabrielle and Ryan eye fuck each other over the table, Seth notices, and Caleb wonders why there isn't more wine.
Sandy daydreams to Kirsten about her quitting her job, wanting to buy back their old run down house in Berkley. Caleb overhears them talking about it in the kitchen and asks what's going on. Sandy, without any go ahead from Kirsten, tells him they're thinking about moving. Sandy and Caleb fight because of course, and Caleb says he wants Kirsten's resignation on his desk in the morning. Nice Sandy.
Seth goes to get Gabrielle a good video game to play, leaving Ryan and Gabrielle alone in the pool house. The second he leaves, she admits to Ryan that Caleb bores her. She runs her hand up Ryan's leg and they start making out. Caleb yells out that they're leaving and Ryan is left stunned.
The next morning of the party, Ryan and Seth are in the pool together and Seth admits that he's noticed some heavy flirting. Ryan point blank admits they hooked up, which in early 2000 speak could mean anything from making out to full on BDSM can't sit for a week shit. It's a very vague term.
Is no one going to point out that Ryan is 16 (yes I know he looks 25) and Gabriella is 24 (yes I know she looks 30)? No one is going to point out that that's some fucked up sexual predator, go to jail for child sex crime shit? No? Okay then.
It's finally Caleb's birthday and Kirsten tries desperately to reverse the whole 'give me your resignation' thing. Gabrielle finds Ryan and continues the flirting. Luke and Marissa start flirting. Ryan can't stand it and goes to mope in the pool house. Luke is very nice to Seth, and Seth doesn't quite understand since he got shot in the arm not the head.
Jimmy and Julie arrive, and Jimmy has a plan to ask Caleb for a job. When that epically fails, Julie uses her skirt chasing wiles to see what Caleb can do for her now that she's getting a divorced and has nothing. Caleb of course asks her to dinner because why not.
Meanwhile Seth is introducing Summer to a lot of rich dudes. Summer later confides to Marissa that she's meeting lots of wealth management people who, "manage wealth…as a job!" Very insightful Summer. Summer confirms with Marissa that she chose Luke over Ryan. Summer asks if they've had sex yet, to which Marissa obviously admits they haven't. Summer asks what she's waiting for and Marissa says she doesn't know. Girl don't know shit.
Back at the pool house, Ryan is hiding from the party, as well as Marissa and Luke, when Gabrielle walks in and they start 'hooking up' aka making out, everyone relax. Marissa stops by to tell Ryan that she chooses him instead of Luke, but she gets all sad and betrayed that he's 'hooking up' with someone else. They aren't even dating! What is he supposed to do, just sit there moping while Marissa takes a decade to figure out what she wants!? Marissa goes back through the party and finds Luke, saying she's ready to hook up. Like actually hook up, as in have sex. If Ryan's doing it why don't they? She's dumb.
Seth fights with Summer, saying he can't stand introducing her to one more person who just stands there and stares at her boobs. Seth says that none of those guys know her, but he does. Cue adorable fucking moment. Seth remembers that Summer wrote a poem in sixth grade about how she wanted to be a mermaid, and is so overcome with emotion as he recites it to her that she kisses him.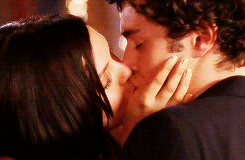 Sandy tells Caleb that Kirsten has no intention of quitting or moving. Sandy says that he needs to let her keep doing what she's doing at the company. She's smart and competent and she doesn't need Caleb and he knows that Caleb fears that the most. Caleb walks away to find Kirsten and tells her he will see her at work on Monday.
Marissa and Luke lose their virginities to each other. Or at least that's what Marissa thinks since Luke clearly has fucked other people behind her back. Ryan decides to go get Marissa back and walks over to her house just as Luke drops her off. She looks shell shocked because I guess the sex was bad and shitty, and maybe don't lose you virginity as revenge. She tells Ryan he's too late and she half run/cries back inside. Her life is like super fucking hard, okay?
Best Song of the Episode:
"You're So Damn Hot" by Ok Go
Before they made quirky videos on YouTube, they made this song!
Best Quote:
Kirsten: Maybe you guys can make peace this weekend.
Sandy: Okay. Oh, no wait we can't.
Kirsten: Why?
Sandy: I'm still Jewish!
Kirsten: I wonder what his new girlfriend is like.
Sandy: I'm sure she is very well paid. I am on fire!
Number of Non-White People with Actual Lines in This Episode:
Big fat zero.
Weird 2003 thing:
Summer: "Caleb Nichol is like the Donald Trump of the West. Do you know how many hot, rich, banker-brokers are going to be there?"
Ah back when Donald Trump was just a rich d-bag, and his name could casually be thrown around in conversation. Those were innocent times.
Best Fashion Statement:
Gabrielle's bikini, because nothing says, "It's nice to meet you my future grandson", like boobs do.